Cannabidiol, more commonly known as CBD, is one of several cannabinoids found in cannabis plants.
In the last few years, research and general awareness have led to the increased popularity of the cannabinoid as a health and wellbeing supplement. This is largely due to the fact that it can be taken safely in large doses without side effects, including the psychoactive "high" feeling you get when taking conventional cannabis products.
Although there are many different ways to consume CBD, the most popular way is to take it in oil form. This has led to a number of companies specializing in CBD oil in particular, with more dispensaries popping up every year.
The increasing popularity can make it harder to find the best CBD oils, however, with many people confused about which company to choose from the many that exist.
This is why we've taken the time to review the best CBD oils in 2022 to help you make an unbiased, informed opinion about the product you purchase.
Kyro
Kyro prides themselves on bringing the life-affirming benefits of high-quality, pure CBD oil to their customers. Their CBD tincture is a great fit if you're looking for something 100% organic and rigorously tested.
Kyro's tinctures contain only two simple ingredients: MCT oil and cannabis, and are derived from full-spectrum hemp oil. This means their products provide the natural benefits contained in cannabinoids including CBD, CBDA, CBC, CBG, and CBN — with no added chemicals. You can buy Kyro's CBD Tincture for between $49.99 and $125 depending on the concentration you choose.
CBDistillery sells one of the best CBD oils if you're looking for a high-quality product at an affordable price. And this oil is a full spectrum product – it contains additional, naturally occurring cannabinoids and terpenes to enhance the desired effects. To ease the sharp taste, it also contains trace amounts of coconut oil.
In terms of concentrations, these start very low at just 250mg, with their range gradually increasing to their highest concentrated product of 5000mg. Depending on the concentration, you can expect to pay between $0.05 and $0.08 per mg, making this the most inexpensive option compared to similar products on the market.
Elixinol is an enterprise company who have taken a unique spin on the traditional running of a CBD oil company, choosing to source their hemp from around the world instead of only the U.S. Working personally with growers in Australia and Europe as well as America, all of their products can be traced back to their origins. This ensures very high-quality CBD oil, as hemp farmers are held accountable and only the best strains are used to make their products. The product itself comes in tincture form and varies in concentration from just 300mg up to 3600mg, giving you plenty of options for choosing the potency you desire.
You might think that this unique creation process bumps the price up massively, but this isn't the case. In fact, you can pick up a bottle for between $0.07 and $0.10, depending on the concentration option you choose.
For those who receive regular drug tests, some of the options on our list won't be suitable as they may contain trace amounts of THC. But this isn't the case with Medterra tincture oils. The product itself is derived from hemp plants that are free from pesticides and other harmful chemicals and have been third-party tested to ensure their authenticity. In fact, the product is so isolated that it contains a 99.6% CBD and coconut oil mix, the latter of which is responsible for disguising the earthy taste associated with the oils.
For this product, you can expect to pay between $0.04 and $0.07 per mg, depending on the concentration you go for. They also have a 30-day satisfaction guarantee, and if you're not happy, they will refund you within this period, no questions asked.
GreenRoads' base of over one million consumers is quick to dub it their product one of the best CBD oils currently on the market. They source their products from organic sources in Colorado and boast a 99% CBD oil purity rate. The only other ingredients that make up that remaining 1% are hemp seed oil and all-natural vegetable glycerine. To make sure of this, they use third-party lab testing whose results you can view online to reassure yourself of the quality product you'll receive. In terms of concentration, there is a range of options available, from just 100mg up to 3500mg, allowing you to increase your intake over time.
These products are well-priced too, with these hands-on products available for between $0.09 and $0.24 per mg depending on the concentration you choose.
NuLeaf Naturals 
If you know anything about CBD oil, you'll be aware that NuLeaf Naturals was very much one of the frontrunners in this industry. Having started back in 2014, they have managed to build up a reputation as one of the most trustworthy CBD dispensaries going, making them a great option if you're worried about authenticity. Their products are full-spectrum, maximizing the potential outcomes from their products, and are completely organic to protect you from being exposed to harmful pesticides and other chemicals.
In terms of concentration, their products range from just 240mg all the way up to 4850mg. For such a fine tuned formula, you can expect to pay more than most other CBD oil companies, but they do enable you to have cost-savings by offering free delivery throughout the United States for your convenience.
Buy NuLeaf Naturals CBD online
Spruce
One of the best CBD oils for people who want strong relief is the Lab Grace CBD Oil from Spruce, which comes in a 30ml bottle with a concentration of 2400mg. This company provides unflavoured, full-spectrum oils which means they contain trace amounts of THC, so this might be one to avoid if you are having regular drug tests. With each dropper of oil containing around 80mg of CBD, however, if you do use it, it can provide almost instant relief from symptoms.
Despite everything Spruce's CBD oils have going for them, they're still an affordable CBD oil company. In fact, the product we mentioned above is just $0.11 per mg, making it less expensive than the average price of similar products on the market.
Buy Spruce CBD oil online
ELEVATE Elixir (Coupon: "DAILYCBD"
 for 15% OFF)
All bliss, all buzz, no booze.  ELEVATE is the world's first hemp elixir that blends modern tech with ancient wisdom to help you feel good in your own body.  Mix ELEVATE into your drinks for a mood-enhancing effect, with or without alcohol. Enjoy the social ritual of having a drink without harming your brain, liver, or waistline.  Instead of dulling your senses, ELEVATE Elixir enhances the present moment, allowing you to connect, relax, and unwind…naturally.  
ELEVATE uses the broadest possible spectrum of cannabinoids, with 0.0% THC, and the company offers real-time interactive COAs for all their products. It's the perfect antidote for CBD fatigue. Upgrade your CBD routine from everyday oils to the future of hemp-based wellness.  
Buy Elevate CBD Online
FAB CBD 
FAB CBD is one of the best CBD oil dispensaries around, having grown a reputation of high-quality products with customer service that is described as being second to none. The CBD oil itself is a full spectrum blend which means it does contain natural cannabinoids and terpenes to enhance the effects more than if you were to take CBD alone. If you can get your hands on this, it's well worth it, if not for the three revitalizing flavors it comes in alone: natural, mint, and citrus. Their potency range starts from just 240mg and goes to 1500mg, providing different options for how experienced you are and the symptoms you are aiming to ease.
In terms of price, it is a little more expensive than some of the options on our list, but provides a high quality CBD oil. You can expect to pay between $0.11 and $0.26 per mg depending on its concentration.
Buy FABCBD CBD Oil Online
CBDMD 
One of the biggest complaints people have after trying CBD oil for the first time is its taste. Rather earthy, this can put people off seeking CBD oil-based relief for their condition altogether, but it doesn't have to. CBDMD is potentially the best CBD oil company for those who enjoy a more appetizing flavor, with many different options on offer for you to choose from. These CBD oils also don't contain THC and are derived from hemp plants, making them legal federally throughout the US and in other countries as well.
The price point of this CBD oil varies, depending on the concentration you choose, from just $28 for 300mg oils to $90 for 1500mg. These prices are quite affordable and considerably lower than what you might expect from a product like this.
Plus CBD Oil 
Another valid contender in the race for the best CBD oil is the CBD oil drops offered by Plus CBD Oil. They are another frontrunner company on our list, who have made significant impacts in the industry and have become the biggest retail space occupier as a result.
If you choose this company, you'll be pleased to know you're getting a fully unique product, made using their signature "Gold Formula." While this is a full-spectrum oil on the surface, they work hard to perfectly blend terpenes, cannabinoids, fatty acids, and vitamin E into one satisfying oil. They offer three different concentrations (250mg, 750mg, and 1500mg) and recommend that you consume half a dropper per dose.
You may be surprised to learn that their exclusivity isn't reflected in their price; in fact, you can pick up a bottle for just $0.15 per mg, and even lower depending on the concentration.
Buy Plus CBD Oil Online
Purekana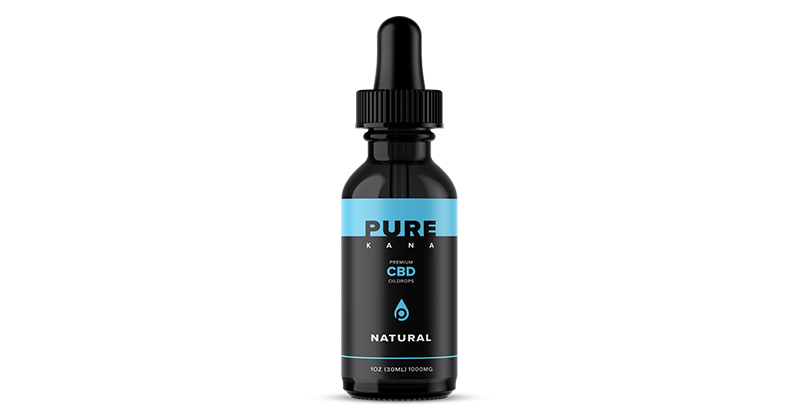 PureKana is one of the most recognizable names in the industry, with a number of different CBD oil options on offer.
This brand prides itself on using some of the highest quality plants, perfect for delivering a hearty serving of cannabidiol direct to the system. Specialty pre-approved hemp growers are chosen with the end goal of CBD production, and those with the highest natural cannabidiol content are selected and processed for consumption.
But it's not just their word that we have to trust to ensure we're getting the highest quality product; this company actually publishes its lab report and certificate of analysis online for their customers to see.
Buy CBD Oil From Purekana
Premium Jane
Premium Jane is a top CBD manufacturer out of Scottsdale AZ. Their unique model is to work directly with farmers and agricultural experts to extract the purest strains of industrial hemp in order to provide natural, organic and high quality CBD oils.
Premium Jane has very strict protocols to test their hemp for microbes, pesticides and chemical fertilizers in order to create the healthiest and safest CBD oil. They grow their plants in strain-specific microclimates and the final product is lab verified for purity.
Buy CBD Oil  From Premiumjane
Mr Hemp Flower
Mr Hemp Flower is a North Carolina-based weed and CBD manufacturer operating legally in all 50 US states. Their CBD products are known both for their quality but also their potency. Advanced CBD users may be delighted to hear that Mr Hemp Flower offer CBD tincture all the way up to 2,000 mg concentration per dose, one of the highest dosages on the market today.
The company also discloses their lab reports directly on their website releasing all pertinent information about how their CBD products are manufactured. Buyers report a comparable taste to other CBD brands, fast delivery time and a great customer service.
Buy CBD Oil  From Mr Hemp Flower Online
Summary
This comprehensive list provides a number of the best CBD oil products currently on the market, giving you plenty of options to choose from going forward.
However, it's important to realize that any advice and opinions in this article regarding CBD oil cannot substitute for actual medical advice. If you wish to start taking CBD products for an established medical condition, please visit your doctor to discuss your condition for more information.